American Custom Bicycles in Steel, Titanium and Ti/carbon mix
A small amount of regular care and attention is the key to maintaining the long lasting beauty of your painted frame. We recommend the following care:
Avoid keeping your painted frame in full sunlight—over time concentrated UV rays may fade the color.
Immediately wipe off any corrosive or acidic substances such as sap, juice, sunscreen, tar, chemicals, or animal droppings.
Never use acetone on painted surfaces.
Wipe off dirt with a soft cloth using soap and water or any paint-safe cleaning product.
If your chainstays are painted, consider a chainstay protector to avoid chain-slap chipping.
Touch-up Paint
Of course, accidents do happen, and scratches and nicks are inevitable. For these minor imperfections, touch-up paint is available. Seven uses professional paint, equipment, and methods from the automotive industry which are unsuitable for home application. Proper touch-up paint for your Seven is available for purchase from Industrial Finishes in Eugene, Oregon. To order call 541-673-3707 (US only) or 542-621-8201 (Outside US). They will need the PPG code for the color(s). Use the chart on the right to find the code(s) for your frame. If your Seven has a custom color email us at info@sevencycles.com for the "paint recipe".
It is important to understand that touch-up paint is designed to address minor imperfections. The color or gloss may be slightly off from your original paint job. For more extensive paint restoration and obtaining a brand new showroom finish, contact us to learn about our repainting service.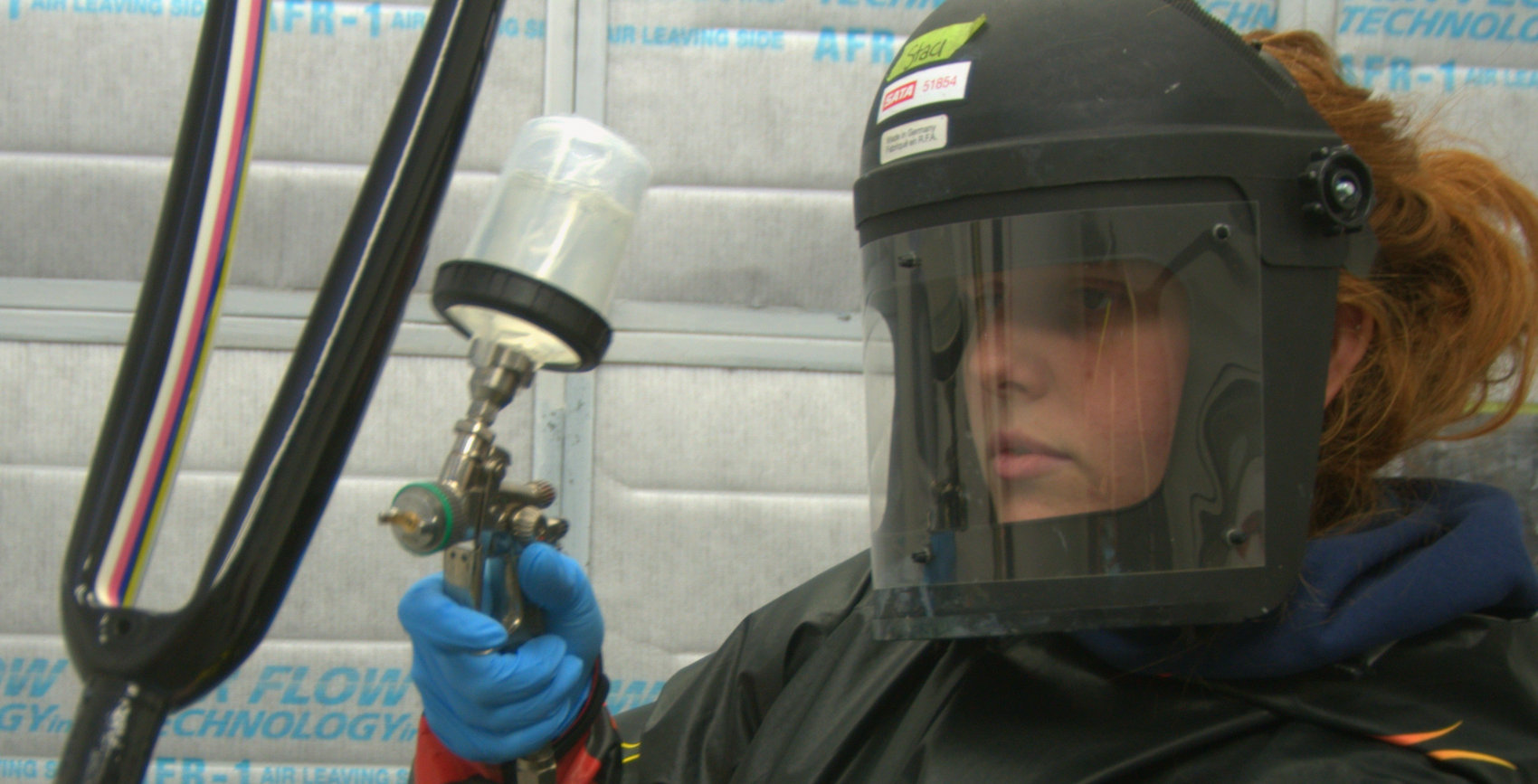 PPG code for stock Seven colors:
Paint Color
PPG number
amber ale
29109
bone (vanilla shake)
90990
canary
email us
citron
83309
cue ball white
92565
deep coral
61301
dune
3686
electric blueberry
5161
electric green
email us
glitter gold
902608
gloss black
DMD1683
goldfish
62494
granny smith
901744, 901744/2
graphite
email us
hemlock
contact Industrial Finishes
hot pink
51588
metallic black
9912
mango
email us
komodo pink
email us
orange crush
4312
orange sherbet
email us
platinum
email us
raspberry
6171-Red Fire
remedios red
DMD1677
robin's egg blue
6137
royal flush
908344
serrano
43817
swimming pool
email us
silver
DMD1687
snow white
DMD1684
sunny yellow
85613
super hero blue
6173
true blue
17039
Tuscan Red
915124 (3R7 Dark Red, Noble Spinel)