U.S. Built Custom Bicycles in Titanium and Titanium-Carbon Mix
Chainstays
Seven offers three basic chainstay designs, more than any other custom builder, with highly refined variations for diameter, curve and even tube wall-butting available with each design. The three basic types of chainstays are: inline, dropped, and chopped.
Inline Chainstays
These are the traditional S-bend chainstays we have been making for decades. Both bends, which are made to increase power transfer as well as provide tailored tire clearance, are in one plane. Our inline chainstays are the lightest of the three designs for the simple fact they utilize the least material. Available in both 7/8" and 1" diameters.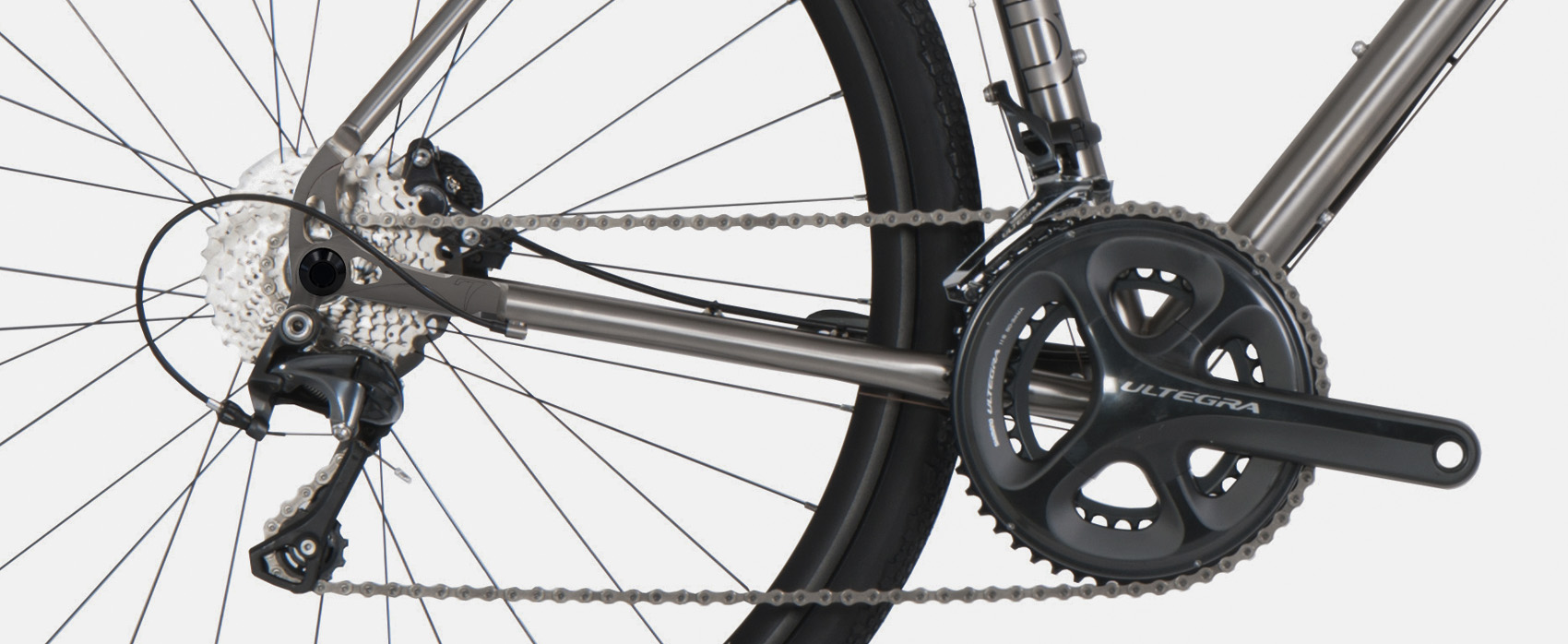 Dropped Chainstay
This is a driveside only modification, so the pair of stays is asymmetric. The "dropped" stay in this pair curves downward as it approached the bottom bracket shell and back up again to join the frame. The curve is continuous, made from a single piece of titanium. Paired with a non-driveside inline chainstay, a dropped chainstay allows us to shorten both stays (1-1.5cm), which makes the frame more agile and/or accommodate a larger tire. Available in both 7/8" and 1" diameters.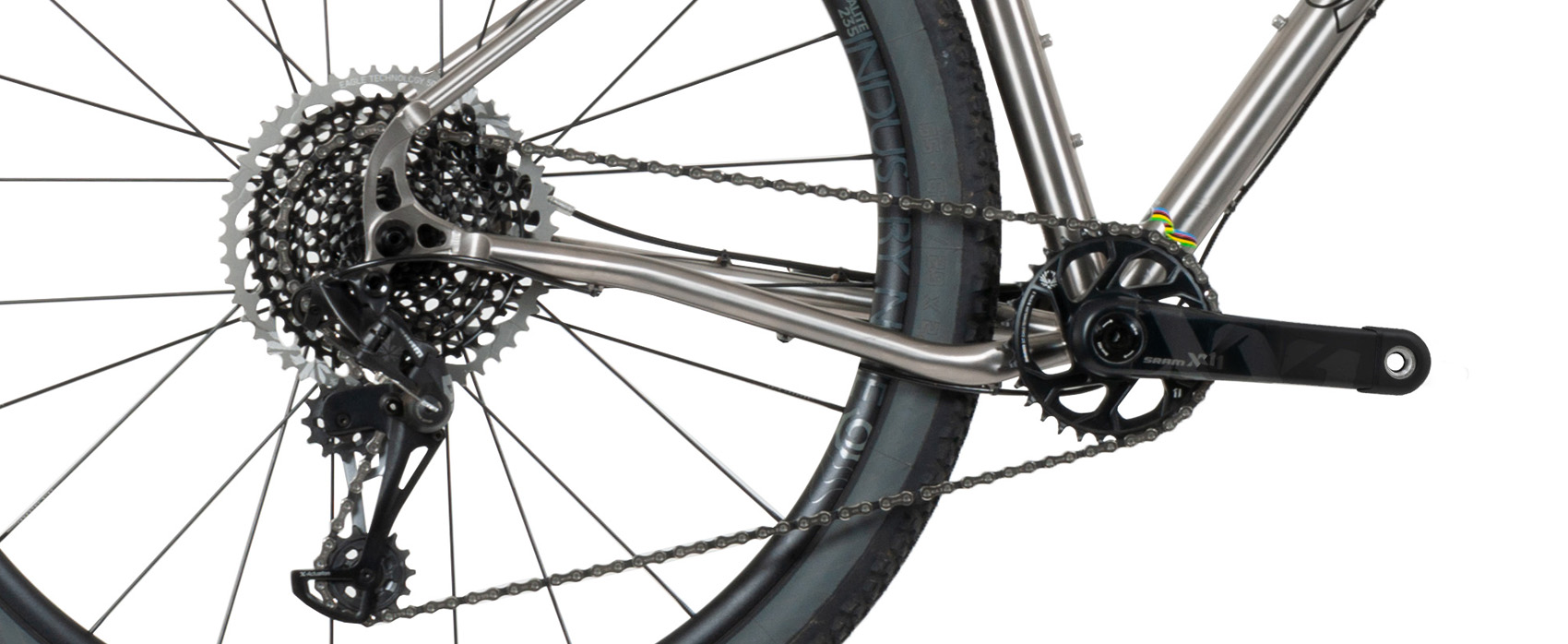 Chopped Chainstay
This is a driveside only modification, too. The "chopped" stay is actually made of two pieces of titanium, welded together, forming an asymmetric pair with the non-drive, inline stay. Our chopped stay is the shortest design option we offer, allowing us to shorten both stays by 2-3cm (usually paired with a Curved Seat Tube). The chopped chainstay is extremely stiff, especially in its 1" diameter variation. It is also the heaviest design, although that can be offset by also selecting the XX upgrade option for your frame. Available in both 7/8" and 1" diameters.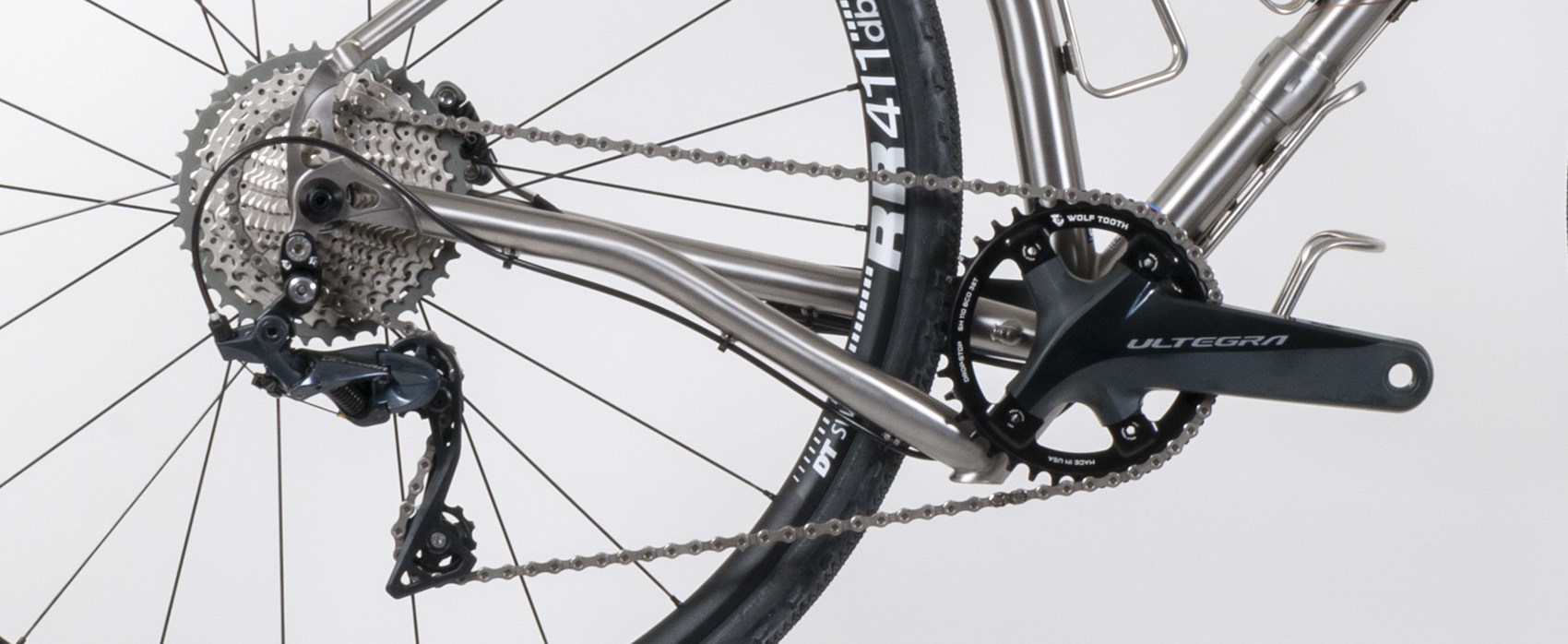 Chainstay Variations: 1" and 7/8" Chainstays
One of the deep values of building a custom Seven is that we control every tube that goes into your frame, which means we can make a very stiff drivetrain while preserving front end comfort, if that's what you like. Many riders will prefer our standard 7/8" chainstays which strike a nice balance between weight savings and power transfer. We can make them shorter than 1" stays, and they give better tire clearance. Other riders will want to tip the balance in favor of power transfer and opt for the 1" stays.
1" chainstays are a key ingredient in producing the stiffest drive train we can build. The goal is for every watt of power you generate to reach the rear hub. Larger diameter tubes, with thinner tube walls, increase both bending and torsional stiffness by 50% over 7/8" stays. With our XX upgrade, we can hold the weight down by custom butting the tube stock in house.
There is no stiffer drivetrain in the handmade market. And, when combining these chainstays with our Fastback Dropouts and a 12 mm thru-axle we're pushing drivetrain efficiency to its upper limit.