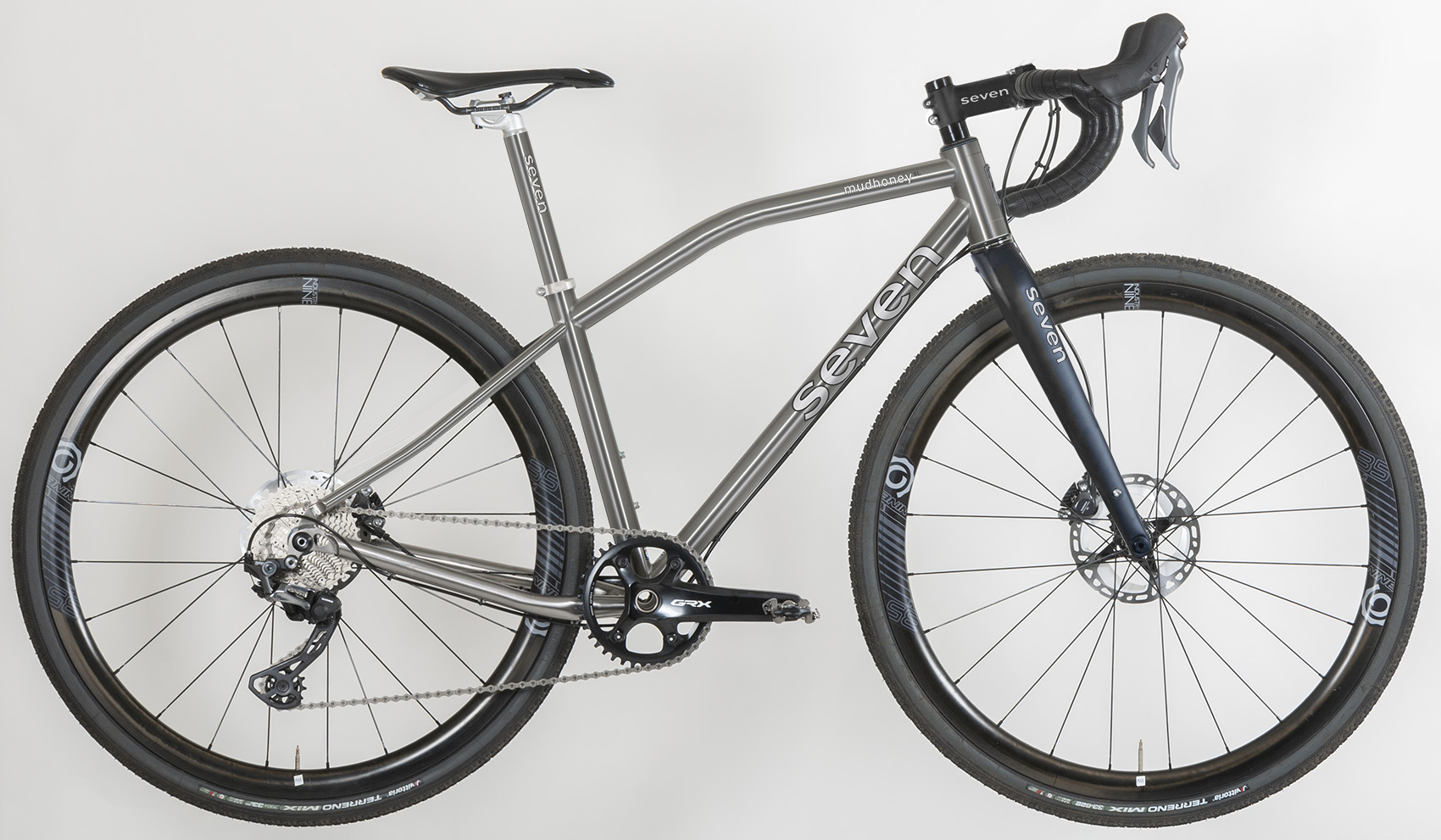 Mudhoney GRX Offers
For cyclocross racing, a frame's vertical compliance, not to be confused with drivetrain stiffness, can be as important as running the right tire pressure. Going fast on a technical CX course is about maintaining traction, fine handling control in tight corners or in getting to the right line, and stomp-on-the-pedals speed. Seven's titanium cyclocross bikes have been delivering those exact characteristics to racers all over the world for more than 20 years.
We are now offering our Mudhoney CX race bikes with many of the features of the ROX KellCruis SL prototype we released for the 2019 cyclocross season, paired with Shimano's new GRX gravel componentry. The GRX parts offer both simplicity and the sort of gearing options 'cross racers thrive on.
With these latest race bikes, we are trying to do for 'cross racing what we have done for gravel bikes, push things forward. And so, we looked at the unique demands of cyclocross and did a new, ground-up design that considers exactly what makes a race bike perform its best in every strange circumstance a course might conjure.
These Mudhoney race bikes are a radical departure from your everyday cyclocross racer. They include our new CX Race Package, from the Torrent Top Tube to the asymmetric rear end, we have added technology aimed at making you faster on the course, or in any technical terrain you take on.
Both bikes include our CX Race Package:
Element
Benefits
Torrent Top Tube

Shorter seat stays and seat tube, which saves about 30 grams.
Smaller rear triangle is stiffer for better power transfer.
Added seat post exposure gives better vertical compliance.
Bike's center of gravity lower, making it easier to body around tight corners.
Rider can lean into the bend rather than pushing along the top tube, for more efficient climbing.
Lifting bike over barriers more ergonomically efficient.

Asymmetric Drop Outs

Reduced driveside dropout saves about 40 grams.

Asymmetric 1" Chainstays

1" chainstays more than 50% stiffer than their 7/8" equivalent.
Longer driveside stay stiffer and lighter than the dropout symmetrical dropout it replaces.

Fast Back Drop Outs

Better disc brake performance and alignment.
Stiffer drivetrain.
Better heal clearance.