U.S. Built Custom Bicycles in Titanium and Titanium-Carbon Mix
Limited Edition: Diamas 96 TT™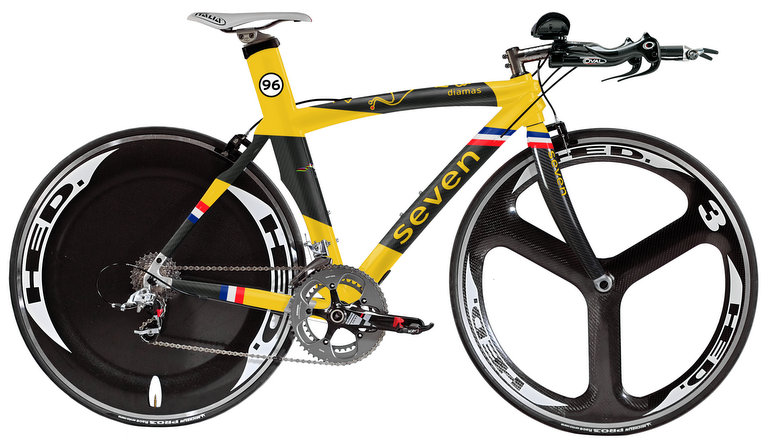 In celebration of the 2009 Tour, Seven is offering a Limited Edition Diamas. Please contact Seven or your authorized Seven retailer for more information.
Details
A limited series of 21 Diamas 96-TT™ framesets:
Frame and 5E fork-in recognition of the 21 stages of the Tour.
Seven's First Priority™ Production:
A full custom bike in two weeks. Order by July 12 and receive your Diamas 96-TT™ by the last day of the Tour-July 26. First Priority Production includes:

Seven's First Priority Design™
Seven will set first priority for your one-on-one interview with our Performance Design team, who will then work directly with Rob Vandermark to design the bike. We will then work with you and your retailer to ensure that the design is everything you want.
Seven's Specialist Artisan Team™
A team of four artisans—including frame builder, welder, painter, and finisher-build your frame, and nothing else until your frame is complete. The team brings their 30-years of combined frame building experience to your Diamas 96-TT™.

Exclusive Tour paint scheme.
Available on the Diamas only. It includes:

Distinctive yellow base color on frame and fork, along with an exposed gloss carbon finish in some areas.
Stage One Inspiration: Monaco to Monaco. The Tour Prologue is the first of two individual time-trials, and will set the stage for who is prepared to contend for the General Classification. We map out the 15.5km "Race of Truth" for you on the top tube so you can see it on every ride and let it serve as motivation to race at your limits.
Accents:

Colors of the French flag
"96" to signify the 96th tour
We look forward to celebrate this historic bicycle race with you and build you a special, one-of-a-kind, limited edition Seven: The Diamas 96 TT™.