Kelly Catale is a Seven-sponsored pro mountain bike racer and a formidable rider during cyclocross season, too. We designed her race bike, the KellCat, to unleash her limitless potential for 2019. Now her race bike is available to you, too.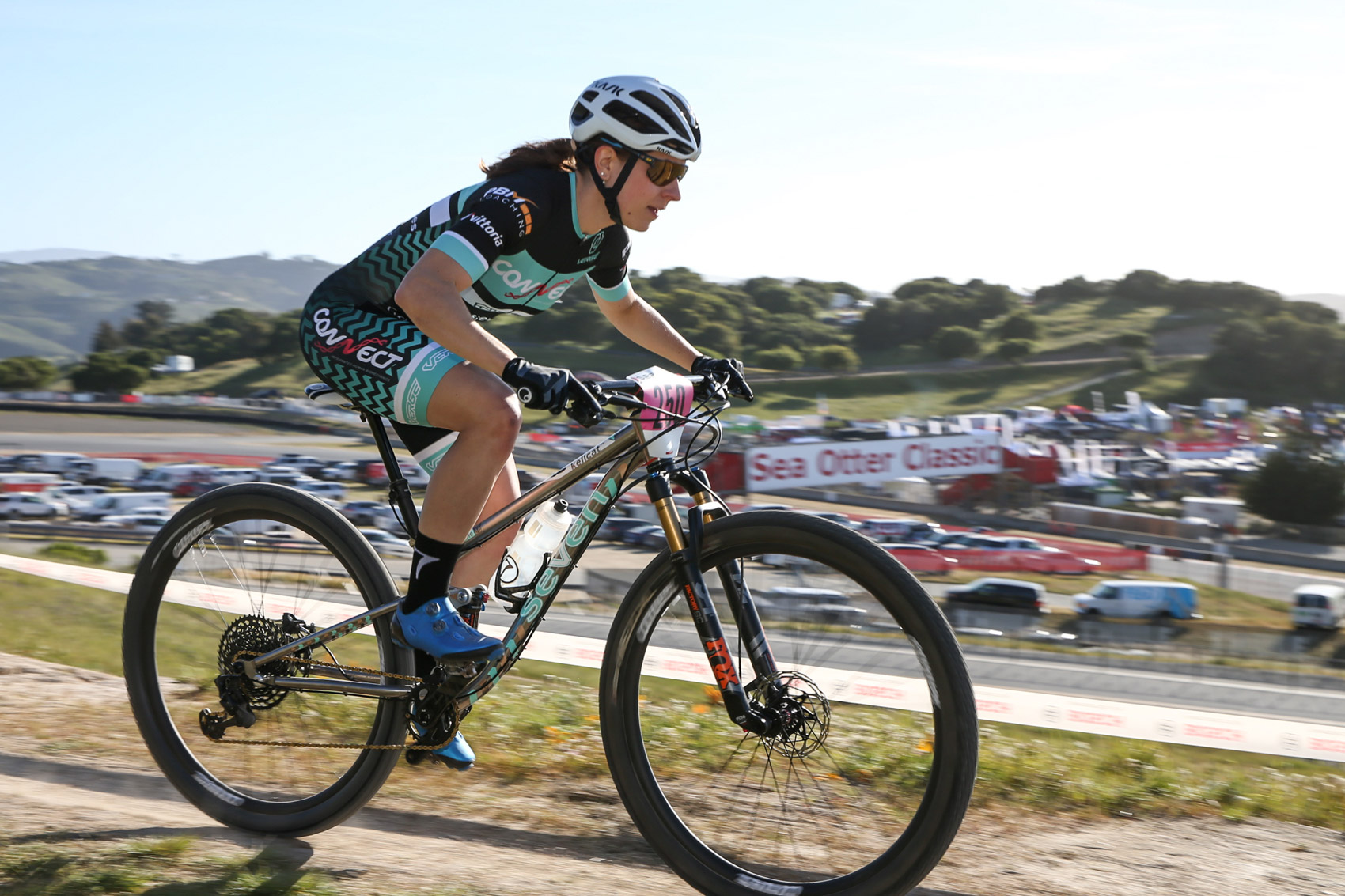 Primary Use: Cross-Country racing.
Configuration: 100mm travel, front and rear, 27.5" or 29".
The KellCat is a cross-country race bike. It loves the short bursts of all-out power than push it through technical terrain and launch it down fast descents. This bike wants to go fast, with a snappy suspension that rewards bike handling skills and courage. The butted frame tubing adds to the bike's dynamic compliance and gives the rider the ability to "body" the bike through corners. Short chainstays add traction and acceleration to the mix.
The Hallmarks
Dual suspension race bikes present some obvious challenges related to pedaling efficiency and progressive suspension that keeps the rider stable during hard efforts. The KellCat's pivot location, sealed bearings and shock type all give the it superior small bump sensitivity with minimal pedal bob and superior anti-squat properties. The rear end is tight and stable in corners. With weights sub-26lbs, KellCat is race light, too.
The Quality
The KellCat's titanium construction gives it an instant advantage over similar bikes made with different materials. As with any suspension bike, long-term quality is measured by its moving parts. For this bike we've used sealed bearings, not bushings, in all the critical locations and the industry standard Fox DPS shock. Our floating shock system isolates the frame from the compression, and that prolongs the life of the bike, and makes service less frequent and replacement parts less expensive.
Limited Edition Finish: KellCat Design
The KellCat is a limited edition decal design that matches her black and teal race kit. Helpful directional arrows show the way, and swooping accents break the linear mold for a bike that flies through the woods.
Details
Usage: Mountain Race
Average Frame Weight (lbs.): 4.9
Complete bike weight for SRAM X01 Eagle bike: 25.9 lbs. without pedals for an average size KellCat SL
Tubeset: Seven's Argen™ double-butted 3-2.5 Titanium
Features and Options
Optional Features: Boost and Boost Plus spacing, cable routing options, electronic shifting, 27.5, 29 wheel, custom name decal
Optional Features with Upcharge: custom color decals, custom paint