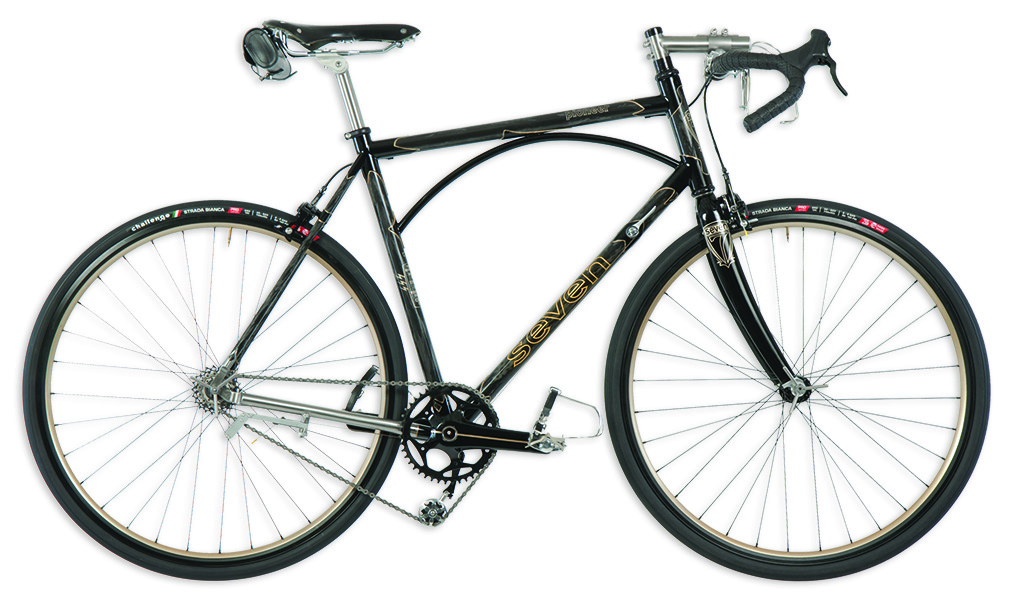 Project Pioneer Design Details
Eugene Christophe was leading the 1913 Tour de France when his fork broke on the descent of the Tourmalet. Prohibited from accepting outside help, he hiked 10km to the village of Ste-Marie-de-Campan with his bike on his shoulder. Once there he repaired his own fork at the forge of Mssr. Lecomte and then continued on to the finish even though the entire field passed him while he toiled and the race was lost.
The Project Pioneer bike is a tribute not only to Christophe, but to the pioneer spirit of cycling's early decades, to the self-sufficiency that cycling fosters and to the joy of building and riding your own bicycle.
Seven built this bike in collaboration with Rapha Performance Roadwear, the Rapha Continental Team and Ride Studio Cafe for the June 7th, 2014 Pioneers Ride, designed as a tribute to the pioneers of early cycling. It's the second of three Editions of One Seven will release this year.
Design Details: Paying homage to the cycling era from 1900 through 1940
| | |
| --- | --- |
| Frame | Carbon tubing with titanium lugs and chain stays. |
| Tubular Truss | harkens back to bikes of this period. |
| Derailleur | Three-speed, designed and built from scratch, in house. Inspired by the first derailleur ever allowed in the Tour de France, the Super Champion. |
| Chain tensioner | Customized, in house. |
| Shift lever | Modified in house for three-speed use. |
| Gearing | 42 front; 14-18-24t cluster. |
| Handlebar | Wide flare drop bar. |
| Stem | Adjustable—track style, built from scratch. |
| Wheels | Rims and hubs painted to match frameset. |
| Skewers | Modified wing nuts. |
| Paint | Logo designs and details based on the style of the era. Gold leaf logos—real gold leaf. Unpainted chainstay—reminiscent of chrome plating. |
More Information
For pictures of the creation of the bike, check out Tumblr or follow our Instagram and Twitter feed.