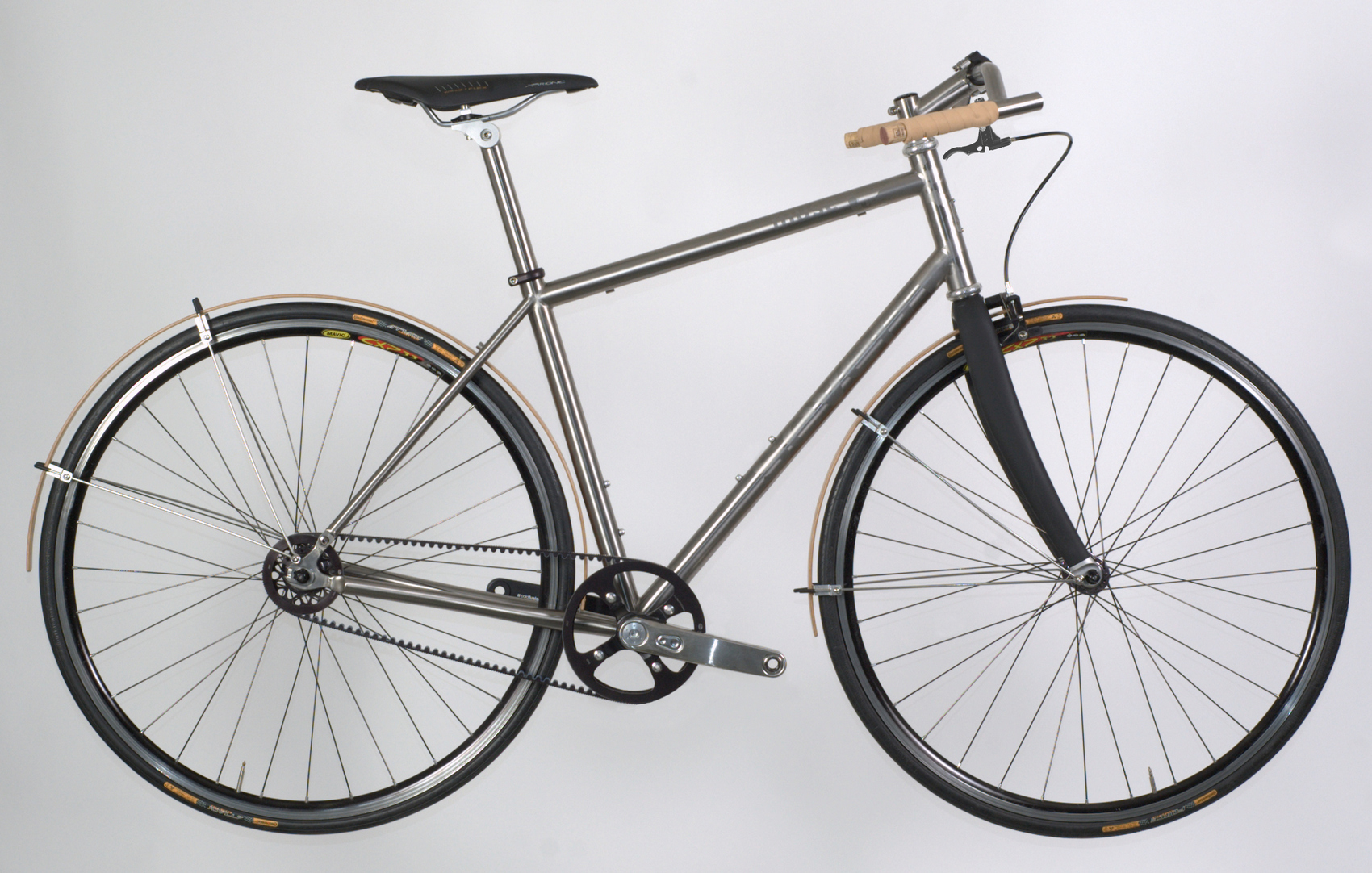 If ever there was an event designed to showcase bike riding, it's Earth Day. What better way to demonstrate you care about the health of the planet than by utilizing an emissions-free, ultra efficient, low maintenance form of transportation? From an environmental perspective, the bicycle has no peer.
As a company filled with diehard bike commuters, we walk the talk every day at Seven. We view ourselves as part of the environmental solution, both in the products and services we provide, and the way we run our company. We actively take steps to reduce waste and minimize our ecological impact wherever possible, while still creating a rider experience that is uniquely yours.
Now we have challenged ourselves to do even more in support of these beliefs. We examined all aspects of our business, and came up with an edition of one to commemorate Earth Day on April 22, 2009.
The Frame
We start with the Muse frame, which uses our Integrity 325™ straight gauge titanium tubing. Titanium is a superior material choice, as it offers an excellent strength to weight ratio, corrosion resistance and durability. The tubeset requires no painting or tube butting, reducing resource and energy consumption.
Next, we use sandblasted graphics on the frame rather than traditional adhesive decals, in order to limit resource use. In addition to the standard graphic placement, we include a sandblasted Earth Graphic on the front of the head tube.
The Fabrication
We have increased our already strict standards for energy and resource reduction in the making of these bikes. Many processes that require significant power usage will be performed using manual labor. This creates a 25% reduction in energy costs. A team of artisans who commute exclusively by bike will handle all design and fabrication.
The Parts
Because the frame is only one aspect of the bike, we assembled a parts selection with durability and sustainability in mind:
First we picked Seven's titanium Tiberius bar, titanium stem and new titanium seatpost to offer components that are built to last and constructed expressly to meet your fit and performance needs. These parts offer a lifetime of reliability, comfort and beauty.
Next, we chose the Carbon Drive™ belt drive option for the drivetrain. This design leverages technology from the motorcycle and automotive industry to produce a strong, longwearing belt and cog system in place of the traditional chain, derailleur and cassette system. This quiet one speed setup has fewer parts, requires no lubricants or maintenance, and performs well in all weather conditions.
We opted for Chris King™ components for the hubs and headset due to their reputation for quality, long service life, and commitment to environmental manufacturing processes. We also added a No Tubes Road Kit with the rim selection to eliminate the need for tubes.
To add a final touch, we have outfitted the bike with Sykes wooden bamboo fenders. Bamboo is a sustainable, renewable resource, and the fenders are biodegradable at the end of their lifespan.
Additional Reading
Rob Vandermark's Blog: