U.S. Built Custom Bicycles in Titanium and Titanium-Carbon Mix
Editions of One: Berlin Show Bike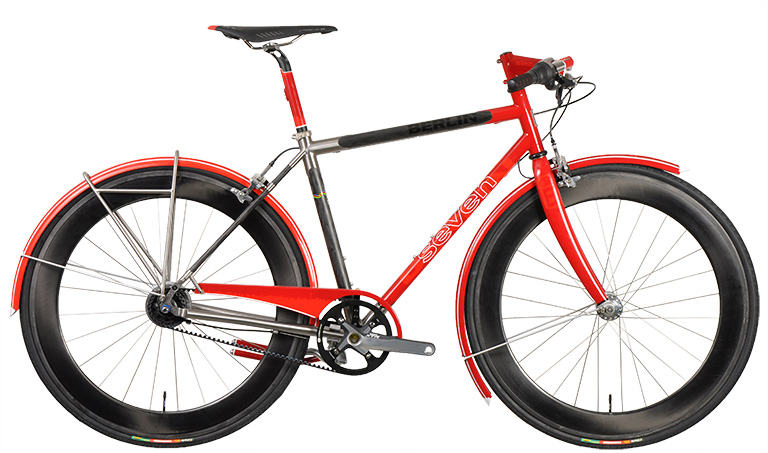 Designed specifically for the city of Berlin, this urban bike is equipped to do anything in the city. This Elium SLX show bike is one part commuter, one part urban bike, one part utility bike, and three parts style.
For the commuter, this bike includes:
Belt drive for an extremely low-maintenance drive train
Internally geared hub
Full fenders and belt guard modified and painted to match the bike
For utility purposes, this machine has:
Integrated custom titanium rear rack
Custom titanium double kickstand
Lighting system uses a hub dynamo generator
The style of this bike is very utility-urban:
Unification of titanium and carbon fiber
Integrated headlight and taillight
Very stylized custom Seven Tiberius handlebar
Every element of the bike is customized, tailored painted and matched in some way
For urban riding, this bike provides:
Compact titanium custom flat bars
Super light construction- even with the fenders and rack
The show bike is not for sale, but you can order similar versions of the bike. Here is a quick comparison:
Frame
Elium SLX— Titanium & Carbon Fiber
Fork
Carbon Custom
Handlebar
Custom Titanium Tiberius Bar with Integrated Light
Wheels
Rims: Carbon deep dish
Front Hub: Generator
Rear Hub: Internal 8-Speed
Drivetrain
Alfine 8 speed with Carbon Belt Drive
Lights
Integrated & internal in custom titanium stem and modified seat post
Rear Pannier Rack
Custom titanium
Other

Integrated Front & Rear Lights
Custom Titanium Kickstand
Bell
To see additional photos and learn more about how this bike was designed and built, please visit Rob Vandermark's blog.