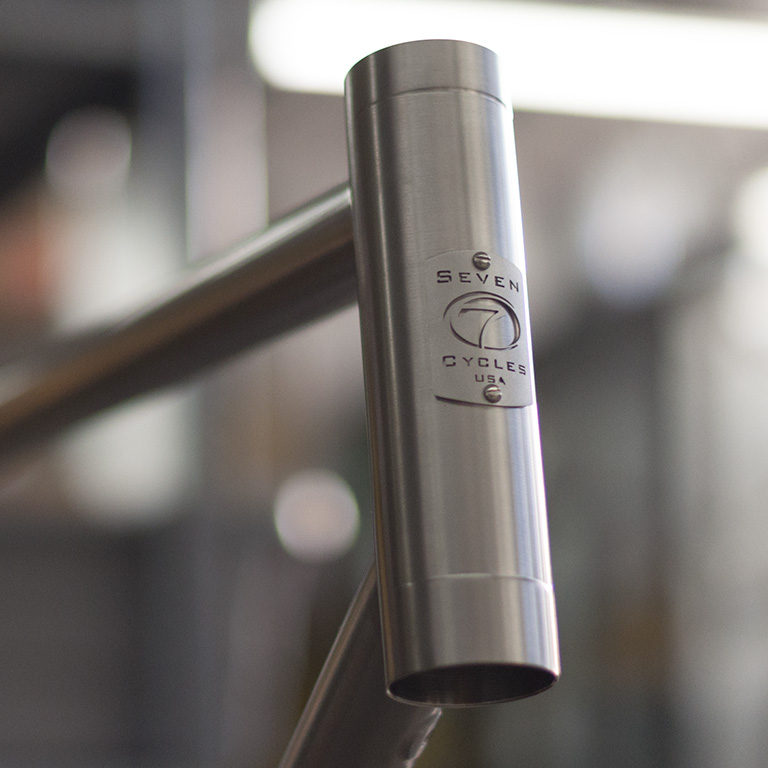 The 44mm head tube can be cut to any length, comes in steel or titanium, and is available on all models at no additional charge, but is it right for you? Read on to learn more.
What is a 44mm head tube?
The current head tube standard is a 33.9 mm inside diameter that accepts 1 1/8" steerer tube forks. With the advent of tapered steerer tubes, which increase the diameter of a fork's steerer tube (at the bottom) to either 1 1/4" or 1 1/2", a larger head tube was required. The 44mm head tube has a 44mm inside diameter to handle this larger, tapered steerer.
Why would someone consider a 44mm head tube?
The most obvious reason to consider a 44mm head tube is if you are using a tapered fork because, well, you have to. However, there are benefits to the system other than compatibility. For starters, the larger steerer tube helps combat the additional torque that a disc brake creates, improving braking performance. In addition, adding a larger diameter steerer tube and head tube to a bike will add considerable stiffness to the front, it will feel very responsive. Racers, larger riders, and people interested in the stiffest components will love the benefits. In addition, the larger will work with 1 1/8", 1 1/8" to 1 1/4", and 1 1/8" to 1 1/2" steerer tubes when paired with the appropriate headset.
Why wouldn't someone want a 44mm head tube?
Not everyone wants or needs the stiffest frame possible, and some might find the over-sized head tube yields a ride that is too jarring. Smaller riders, and riders who spend day after day on the bike might prefer a more forgiving 1 1/8" head tube.
What headset should I order for my Seven with a 44mm head tube?
Here is a list of popular headsets that work with the 44mm head tube, listed by fork type:

Tapered 1 1/8"-1 1/2" steerer tube fork

| Manufacturer | Model |
| --- | --- |
| Chris King | Inset 7 |
| Cane Creek | 110 ZS44 / 28.6 EC44 / 40 |
| Hope | Integral: '2' Upper and 'H' Lower |
| Cane Creek | 40 ZS44/28.6 EC44/40 |
Tapered 1 1/8"-1 1/4" steerer tube fork

| Manufacturer | Model |
| --- | --- |
| Chris King | Inset 8 |

Straight 1 1/8" steerer tube fork

| Manufacturer | Model |
| --- | --- |
| Chris King | Inset 1 |
| Cane Creek | 110 ZS44 / 28.6 EC44 /30 |
| Hope | Integral: '2' Upper and 'B' Lower |
| Cane Creek | 40 ZS44/28.6 EC44/30 |
| FSA | Orbit Z 1-1/8" Internal |