Special Edition Bike Model: Evergreen SL KellCross Titanium
Category: Gravel & mixed-terrain racing
Geometry & Design Classifcation: Race geometry — tight, climbing, acceleration, descending stabilty
Bike Mission: Race-ready, lightweight, performance
Chassis: Fits up to 700c x 45 mm wheels
Frame Material: Titanium double-butted performance rider-specific tubeset for lightweight & performance
Parts Kit Type: Team Edition // Shimano GRX 810 1x mechanical shifting, hydraulic brakes
Seven's Evergreen SL frame
The KellCross begins with our most popular gravel frame desiign: The titanium Evergreen SL. The SL's butted tubeset is a great choice for riders wanting to test their limits over dirt and gravel. Double-butted titanium eases the impacts from ruts, potholes and the sorts of imperfections that distinguish Class IV roads from their smoother, paved brethren. Highly tunable handling is wed to disc brake stopping power to keep you dialed-in to the ride even after hours in the saddle.
Element
Specifications & Details
Frame Type
Evergreen SL double-butted titanium
Frame Upgrades

KellCross race geometry & performance
Dropped chainstay
Moto seat stays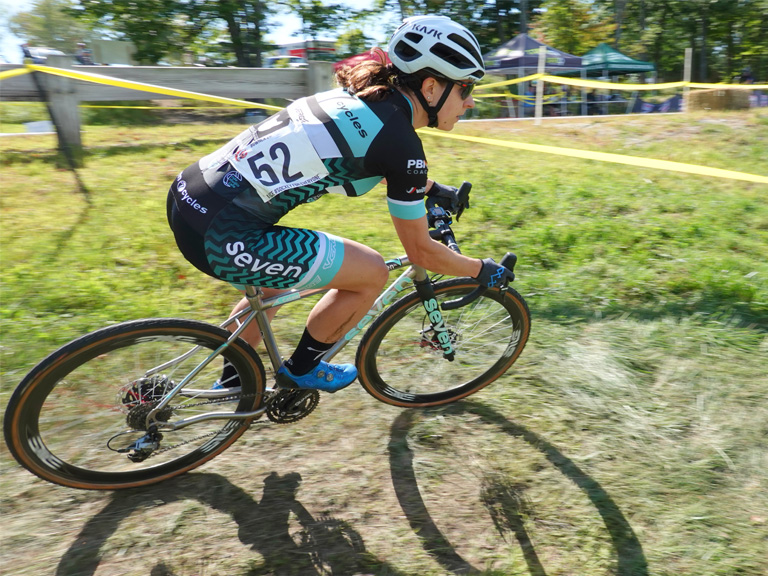 What is Seven's "KellCross" gravel race bike?
Race short, race long, race-ready, lightweight, performance
This is a combination of cyclocross geometry, gravel geometry, and race geometry. A number of Seven's recent advances in tube manipulation, tube butting, and machining, combined with new component options, allow us to pull the conflicting needs of 'cross and gravel racing together.
Lots of other gravel models available
If this specific bike doesn't seem to be your perfect match, check out the rest of our race gravel bikes. Or, review our full line of gravel models. We're confident we'll have the right bike for you. Questions? Contact us. We're here to help you find your perfect bike.
Workhorse Parts Kit:
Shimano GRX 810 1x mechanical shifting
This is one of our favorite kits. When durabilty and parts that just work, even under the worst conditions, are most important to you, the GRX 1x setup can't be beat. Shimano components are ubiquitous so replacing worn parts is quick and easy. This kit is probably the best balance of everything you could ask for from an affordable component kit. The new GRX system is simple and flawless.
| Component | Specifications |
| --- | --- |
| Shifters | GRX 810 1x mechanical |
| Derrailleurs | GRX 810 1x mechanical, rear only |
| Brakes | GRX 810 hydraulic with 160 mm BH90 rotors front & rear |
| Crankset | GRX 810 1x 42t chainring, crankarm length is size specific |
| Cassette | XT M8000 11-46t 11-speed |
| Bottom Bracket | GRX level BBR60 |
| Chain | GRX level HG701 with Quick Link |
If you want something that's not shown here, contact us. We can probably accomodate.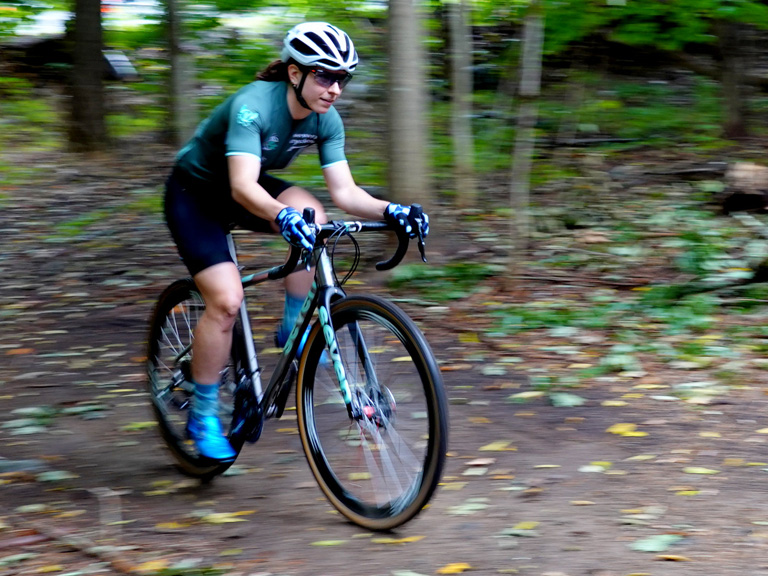 Conflict & Balance
The genesis of this bike is a collaboration with Seven Pro Kelly Catale who had just wrapped up a phenomenal mountain bike racing season and wanted a bike to race cyclocross AND longer gravel events.
Gravel racing and cyclocross racing are very different. Top cyclocross racers want quick handling bikes they can maneuver through tight corners, whereas gravel riders, taking on longer, less technical events want more stability from their bikes. Additionally, cyclocross bikes typically have more level top tubes, so they can be shouldered for carrying up stairs and over obstacles, while gravel bikes might have a more sloping top tube to create a smoother ride and better stand-over clearance.
The key word in almost every bike design is balance. Few bikes make sense when they're optimized for one attribute at the expense of all others, so coming up with a bike that is both CX race and gravel capable is right in our wheelhouse.
We addressed the challenges of traction and tire use flexibility with a combination of our Moto seat stays and a Dropped drive-side chainstay. The Moto stays improve omni-directional traction by absorbing shock at a wide range of compression angles. That keeps the rear wheel on the ground and driving the bike forward. The Dropped drive-side gives us a shorter overall stay and resolves some clearance conflicts near the bottom bracket shell, which means the bike has more room to shed mud during a 'cross race, or to take a larger tire for gravel events. Bigger tires means more control.
This is where Seven's deep customization gets at the optimal design, because every bike we build is adapted to the person who will ride it. We are able to get at the millimeters and half degrees of the geometry that unlock the rider's best experience.