Painter Mission
The painting team's mission is to produce flawless products at the rate required by customers through continuous improvement of production processes, developing individual capabilities, working as a team, and responding to market demands as communicated by the sales and marketing team.
Basic Function
To meet Seven's paint team targets for product accuracy, labor hours per frame, and capabilities development. Painting at Seven Cycles is a combination of artistry, chemistry and production. The painters at Seven have an interest in the complex process of painting as a technical skill as well as the artistry of the finished product.
Responsibilities
Meet team based targets for production units per day and week
Meet team based targets for labor hours per unit
Maintenance, cleanliness, and orderliness of tools and work areas
Commitment to understanding, learning, and improving Seven's Process Methodology
Developing, defining, and implementing improvement projects
Support success of the final machining team, other teams, and the company
Commitment to developing capabilities and skills
Performance evaluation metrics
Productivity: labor hours per frame as a percent of target
Accuracy: Finish quality meets and exceeds specifications
Volume: production rate as a percent of the target
Profit—specific to painting—as a percent of the target
Expenditures as a percent of the budget for production teams
Co-worker and customer feedback
Individual capabilities development
Traits and Profiles
Responsibility: Dependable and accountable; delivers on time, within budget, and as specified
Values: High levels of integrity, honesty, and responsibility
Intensity: High stamina and endurance; focus on work activities
Detail-Oriented: In all aspects of final machining: Prep, Support Work, Equipment Maintenance
Flexibility: Ability to adapt to changes in both environmental conditions and adjust the process accordingly
Steadiness: Ability to work in close quarters at exacting tasks
Creativity: In both problem solving and ability to exceed customers finish expectations.
Discerner: Skilled in self-appraisal; sort the critical from the superfluous and take action
Proactive: Looks for solutions; initiates change and improvement
Relater: Outgoing and congenial; promotes positive relationships
Project management: Excellence in the management of projects, people, deadlines, constraints, etc.
Technical mastery: Committed to continual self-education; large store of industry knowledge
Ideal Professional Background
Proficiency with the latest version of Adobe Illustrator
Cycling experience: enthusiast
Basic spray paint knowledge
Experience with single-piece-flow or the Toyota Production System
About Seven Cycles, Inc.
Seven Cycles, Inc. was founded in January 1997 and is the largest exclusively custom bicycle builder in the world. The company's mission is to enhance the riding experience of cyclists worldwide through the optimum fit, performance, comfort, and styling of their bicycles. Seven fosters a fast-paced, value-driven environment, placing particular focus on its employees, customer satisfaction, product quality, and innovation. Seven Cycles is an equal opportunity employer.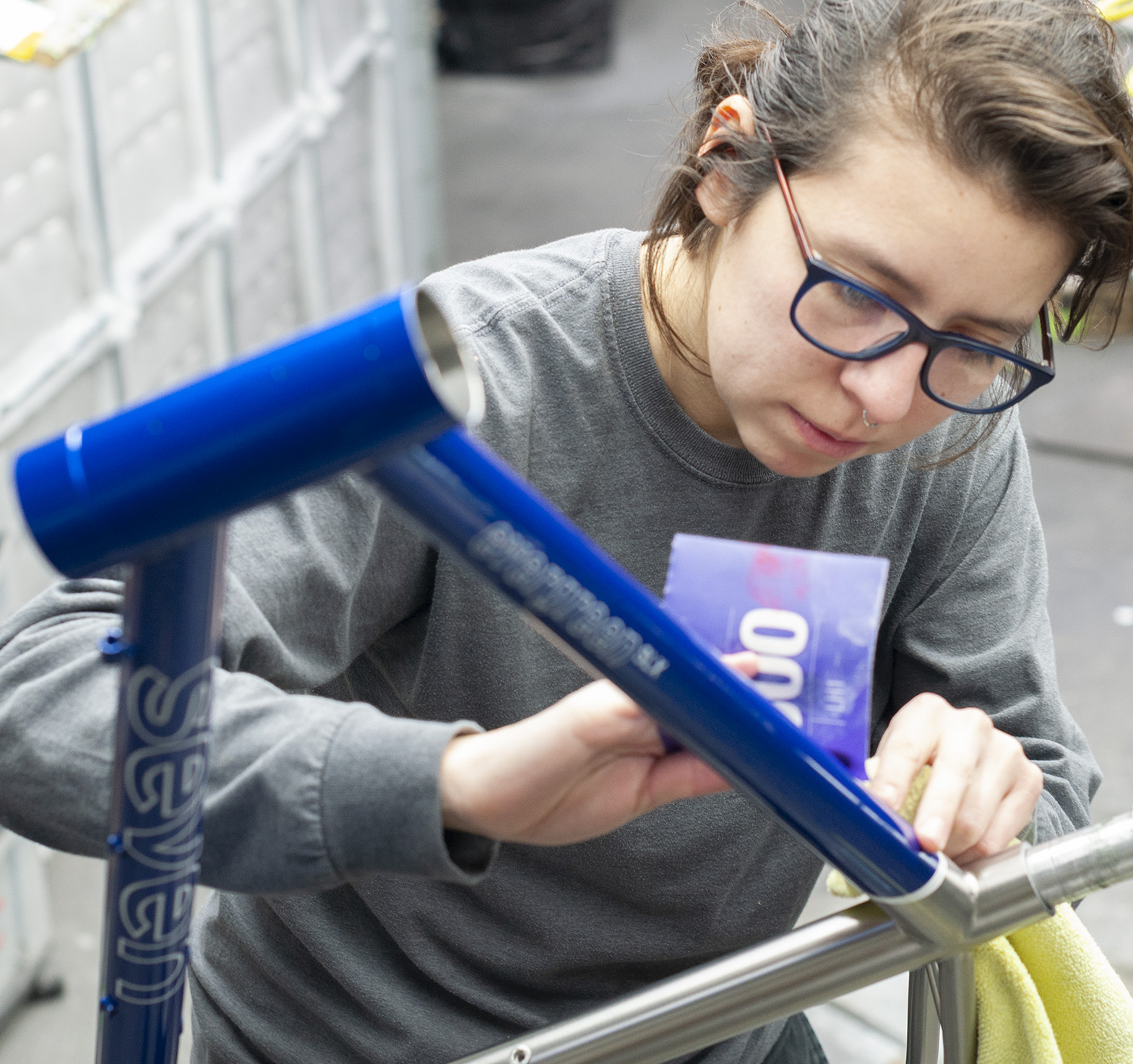 "Seven has enabled me to master a craft which combines science and art to build someone's unique dream bike. Once I've painted a frame I love taking a step back to see someone's custom bike fully come to life and think about how each machine could be ridden all over the world."

—Paulina B.