Vernon Felton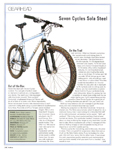 Here's the deal with Seven Cycles; custom. You can get a hardtail (steel or titanium) in almost any configuration you desire. You want your bike equipped with disc-brake mounts? Rack Eyelets? Horizontal, singlespeed dropouts? Seven will do all of that at no extra cost. More importantly, Seven tailors each frame's ride characteristics to each customer's riding style using a custom blend of double-butted Columbus, Reynolds and True Temper steels (dubbed Origin). Why is this important? Imagine two mountain bikers who both ride 17-inch frames. One rider is a 210-pound pedal-masher. The other is a 160-pound racer who spins low gears. The Clydesdale with the jackhammer pedal-stroke needs a stiffer frame than the spin boy with eight percent body fat. Nice.
On the Trail
Last Summer, I filled out Seven's customization questionnaire and sizing chart. A month later, this baby-blue Sola landed on my doorstep. The bike features a 23-inch toptube, 71/73-degree head and seat-tube angles, 16.75-inch seat-stays and a bottom bracket height of 11.75 inches. Why is this important? Actually, it's not important at all, unless you are roughly the same size as me (5 feet 11 inches and 180 pounds). Which brings in an interesting point—why should you read a test about a custom bike? The bike could ride beautifully for me and horribly for you; after all, it was built to fit my body and my riding style. In theory, you too could order a custom Seven built to fit your particular body and riding style. Since it is useless for me to ramble on about how a bike built for me might feel to you, I will instead focus on this question: Does Seven Cycles do a good job of building the bike you ask for? Can you really call them up long-distance and still manage to get the exact sizing and ride characteristics that you want?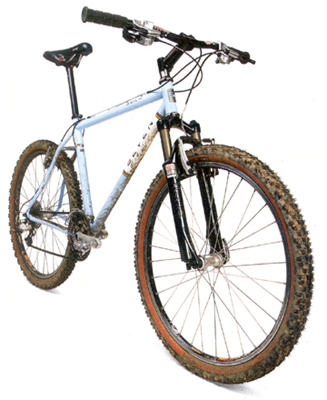 Basing my judgment on the Sola I received, I'd have to answer yes. The Sola was precisely what I'd asked for. As a relatively heavy rider, I was looking for a bike that felt stiff at the bottom bracket, yet resilient while seated. "Stiff, yet resilient": This is the much-acclaimed Holy Grail of steel hardtail attributes. This particular hardtail, however, comes about as close to hitting the target as any steel bike I've ridden to date. More impressive yet is that it manages all this without feeling whippy or unmanageable during all-out descents or out-of-the-saddle sprints.
There's a price for everything, and in this case, the price is steep. There are good full-suspension bikes that cost as much as the Sola frame alone. If you're looking for a bargain, this ain't your pony. On the other hand, if you've got the cash, appreciate quality materials and workmanship, and you know exactly what you want from a hardtail, your search is over.
| | |
| --- | --- |
| Frame: | Seven Origin custom-blended double-butted steel |
| Suspension: | RockShox Duke SL |
| Wheels: | Shimano XT hubs, Mavic 517 Rims, IRC Mythos XC tires |
| Drivetrain: | Shimano XT |
| Sizes: | Completely custom sizing/geometry available |
| Weight: | 24lbs., 10.5oz. |
| Contact: | 617-923-7774 www.sevencycles.com |