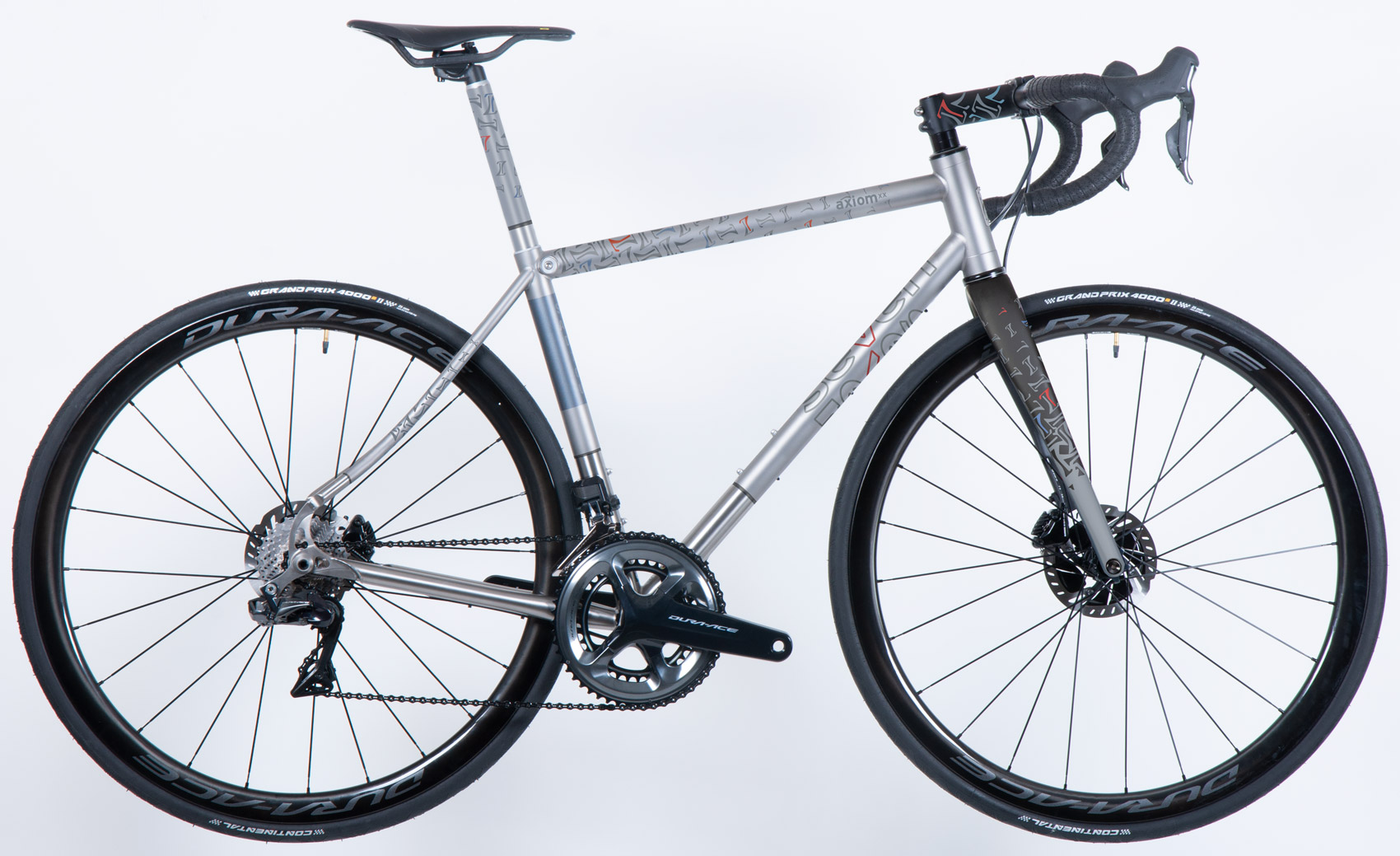 NAHBS 2019 - Ultimate Seven Axiom Disc
It has been a long time since we attended the North American Handmade Bike Show (NAHBS), so when we decided to make the trip to Sacramento for this year's show, we knew we needed to bring the best bikes we could. The Ultimate Seven Axiom Disc road bike is one we have made before, but as with all bikes that want to live on the bleeding-edge of possibility, there is a relentless need to push farther, so farther we pushed.
This is a bike focused on speed, a bike that wants to be the fastest road disc bike we could imagine, with every performance upgrade that Seven has to offer and a component spec that supports that core mission. We didn't forget speed when we did the paint design either. The NAHBS Edition Ultimate Axiom Disc features our limited-edition 'Prime' paint scheme, based around the number 7, and a unique hourglass design that reminds you the clock is always ticking.
These special offers end March 31st.
The technology we've put into this bike goes beyond what any other builder is currently doing. It starts with a compact geometry and our XX weight savings package, a whole battery of frame modifications that pull weight from the frame strategically, without compromising performance-oriented stiffness. Added to that is the sublime combination of maximally stiff 1" chainstays for superior drivetrain performance and our moto seatstays which absorb road shock to keep you in the saddle and improve traction on all surfaces. An oversized T47 bottom bracket shell and direct mount derailleur hanger contribute that little bit extra performance in pedaling efficiency and shifting accuracy. Finally, we tuck all the wiring in behind the head tube, seat tube and driveside dropout, to help the bike slice through the air.
For the Ultimate we actually ended up with two different build outs, one with Shimano Dura Ace 9170, the other with SRAM AXS. Both give us top-of-the-line electronic shifting and hydraulic brakes.
We also put together a stripped down version, one still laser focused on speed. That bike is our tough-as-nails Axiom S. We omit the paint and opt for an Ultegra level build out, retaining the 1" chainstays and moto seatstays for their peak performance and to maintain the bike's clean lines.
Full kit details and pricing below.
The Ultimate Axiom Disc features:
XX Upgrade ($995)
An upgrade package to dramatically reduce frame weight. The package includes:
Advanced tube selection and butting techniques, enlarged internal breather holes, an ultrathin seat tube sleeve, machined brake mount, and compact frame design
Our Asymmetric Fastback Dropouts, which are 75% stiffer than the most popular titanium thru-axle disc brake dropout on the market. These custom asymmetric dropouts save 60 grams of weight over our conventional disc brake dropout system.
Our Max Power Seatpost has a 30.9mm diameter with a razor-thin tube wall, so it is both lighter than a conventional 27.2mm post and stiffer at the same time. Despite its trim profile, it far exceeds DIN fatigue testing standards, and each one is custom butted and handmade for its rider's specific needs.
An Internal Seat Post Binder that saves 40 grams of weight by eliminating the standard, external seat binder and reducing the seat tube extension.