Axiom S Ultegra 8020 Racehorse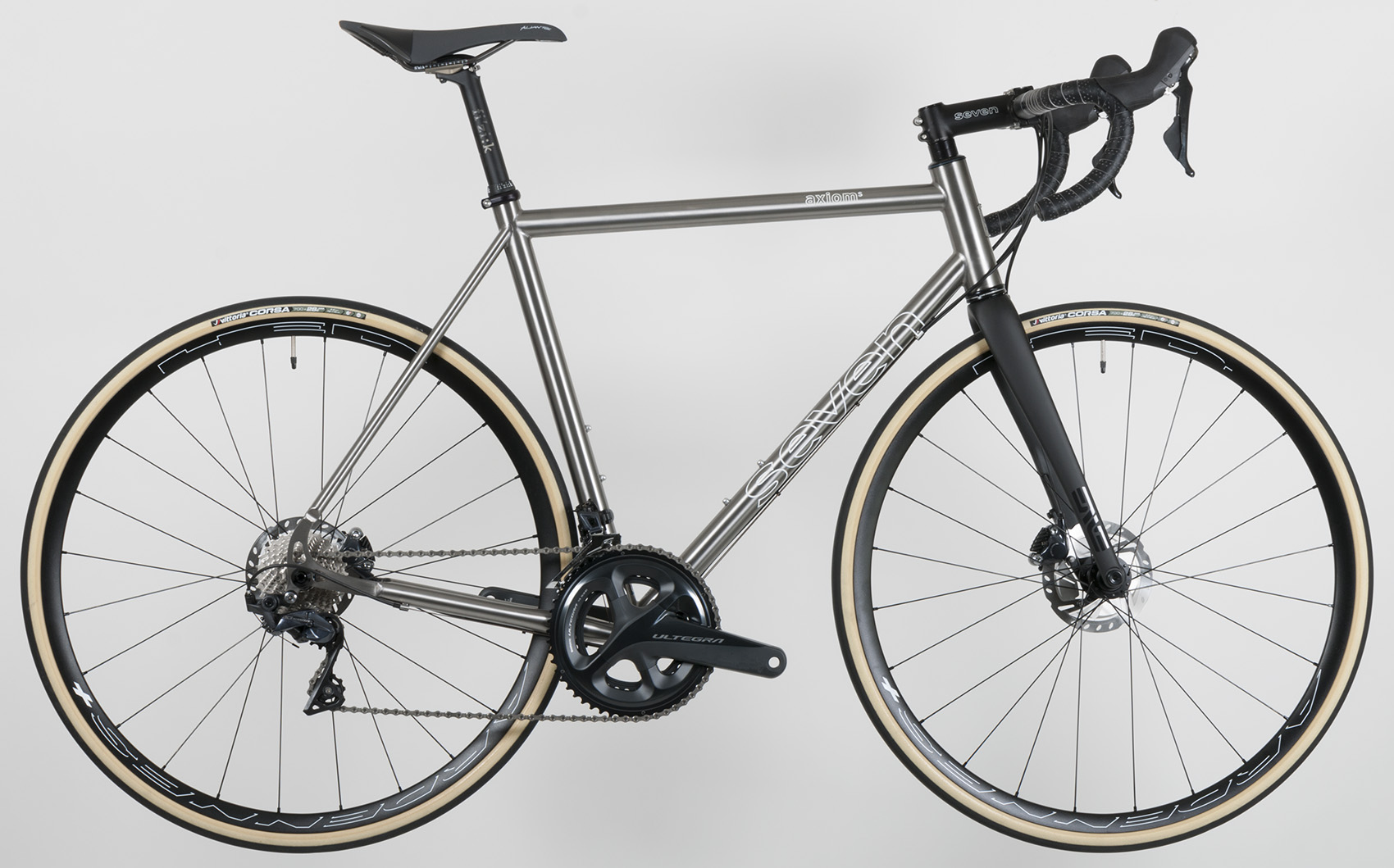 The Axiom S Titanium Disc RaceHorse integrates some of Seven's latest technology into our stalwart Axiom titanium frameset with Shimano's Ultegra 8020 groupset. The RaceHorse is the perfect balance of price, speed, progressive technology, and flawless durability.
Order your own Axiom RaceHorse Disc bike and receive:
A total of $595 off the bike:

Season Jump Start: 3-week lead-time through our First Priority Framebuilding system which is normally an upcharge investment of $400. For RaceHorse customers we're foregoing the upcharge.
Seven's All Out Speed Kit at no charge – a $195 value.

3-week lead-time. Once we've confirmed the design with you, your bike will be ready to ride within three weeks. Seven's current lead-time is about 6-weeks, so reserve your expedited lead-time before it's too late. You'll get your bike twice as fast as anyone else.
This exact bike with Seven's handpicked curated groupset and parts kit.
A place in our build queue so you'll have no delays.
This offer is only available through June 4.
Seven's Axiom S is an amazing and progressive bike – not just within Seven's line. It's unlike any other bike on the market. The Axiom S offers Seven's full palette of customization possibilities, it's all titanium, handmade in-house at Seven, boasts the toughest, most durable frame on the road, and it's priced about a third lower than bikes of similar quality and specification. We don't think there's any other bike that offers this set of features.
Seven's All Out Speed Kit combined with our Active Race Design Geometry demonstrates the vertical integration of Seven's latest technology innovations. Key aspects include a super-stiff, over-sized chainstays, the tighter front triangle and shorter wheelbase, and the wide diameter head and down tubes. This bike will compete with any performance-leaning carbon fiber machine for drive train stiffness while offering superior comfort, handling, and responsiveness.
The RaceHorse edition provides this Axiom S with the industry benchmark new generation Shimano Ultegra groupset. We've also include HED Ardennes GP wheels to round out this balanced machine. Durable, flawless, next generation – just like the Axiom S titanium frame. You'll spend more time riding and less time maintaining. This bike is ready to ride in any conditions.
Bike Specification Details
Frame: Axiom S Titanium
Frame upgrades:
Seven Components:

Handlebar: Seven aluminum 3D forged
Stem: Seven aluminum 3D forged

Fork: Enve Road Disc 1-1/4" thru-axle 12 mm flat mount
Wheels: Hed Ardennes GP
Tires: Vittoria Corsa G+, 25 mm, Black and Tan
Fork: Enve Road Disc 1-1/4" thru-axle 12 mm flat mount
Wheels: Hed Ardennes GP
Tires: Vittoria Corsa G+, 25 mm, Black and Tan
Headset: Cane Creek 40
Seat post: Fizik R5, aluminum
Saddle:

Men's: Prologo Kappa Evo T2.0
Women's: Prologo Kappa Evo Dea T2.0

Full Retail Price: $7,175 as shown
Limited Time Discount Price: $6,580, $595 off for an 8% discount
Order yours before the June 4 deadline.
Fine Print
Deadline: Offer ends on Monday, June 4 at midnight.
Prices do not include pedals, water bottle cages or any accessories that may appear in photos representing this bike.
Lead-time does not include design time prior to you signing off on the final frame specifications and parts kit to release blueprint to the framebuilding team. Lead-time does not include bike assembly time at the retailer.
Exclusions: This offer cannot be combined with any other offer from Seven or your retailer. This offer is not available for a bike that you've already ordered but that you have not yet taken delivery of from Seven.
Complete Bike: This offer is available on complete bikes only.
Price shown does not include taxes, shipping charges, or possible assembly charges by your retailer.